Set Times
9:00 - 10:15 Adam Scott (House)
10:15 - 11:30 Domain (Breaks)
11:30 - 12:45 Turtle (Electro)
12:34 - 2:00 Crono (Jazzy House)
Oct 3

Turtle (Electro)
Domain (Breaks)

Oct 10

Gumby (Drum & Bass)
Ryan G (House / Electro)

Oct 17 ***GUYS NO COVER***

Khemlab (Funky Techno)
Krisco (Breaks)

Oct 24 ***LADIES NO COVER***

Berbs (House)
Polly (Breaks)

Oct 31 ***HALLOWEEN BASH***

Alucard (Electro)
f/64 (Rockin' House)
Darian James (Dirty Electro Trance)
Haven't joined enough Facebook groups yet? Join ours!!! Search for Essential Wednesday's and catch all the updates, invites and more!!!
states of:

excited
Beginning October 3, we invite you to join us every Wednesday from 9pm - 2am at The Vibe Nightclub as we deliver a fun, affordable alternative to the laziest day of the week!
Each night will feature two guest performances from some of Winnipeg's hottest DJ's playing the best in House, Breaks, Progressive, Drum & Bass, Electro and more!
Enjoy an intimate atmosphere with our residents: Adam Scott, Sky Jones, Dizz, Crono and of course our talented guests, but don't forget about the dancing, drink specials and food that'll make this Wednesday feel like Friday!
Are you a DJ? Do you wanna play? Bring your demo down and maybe you'll join us on the decks!
The Vibe is located in the Best Western Charter House Hotel, 330 York at Hargrave.
Cover is only $3. Now THAT's a deal!
states of:

excited
Both floors will feature black light responsive decorations.
Your night will begin upstairs in our Solar room where you'll find yourself dancing under 100+ fluffy clouds glowing bright orange! Mike Foyle and our Solar DJ's will take you through an adventure all the way from 9pm to 7am the next morning!
After having access to this room you will then be able to head downstairs and venture into the twilight. Despite being underground we'd like to give you the feel of dancing under a star lit sky. So as you're thrashing around to the insane beats provided by Short Circuit and our Lunar DJ's, take a moment to look up at the 300+ glowing stars hanging above you!
But I'm curious...it wouldn't be much of an "Eclipse" theme without an actual eclipse wouldn't it? Well for the first time in celestial history (I think hehe) we get to witness both a Solar & Lunar Eclipse indoors!
There you have if folks! 2 Massive headliners, awesome locals, two floors of decorations, all for a low price!
2 MORE DAYS!!!!!
Did I mention i'm pumped?
states of:

excited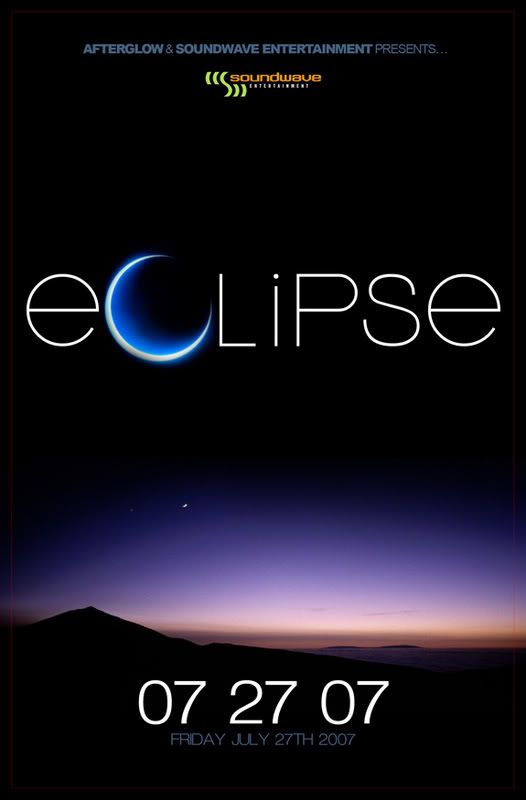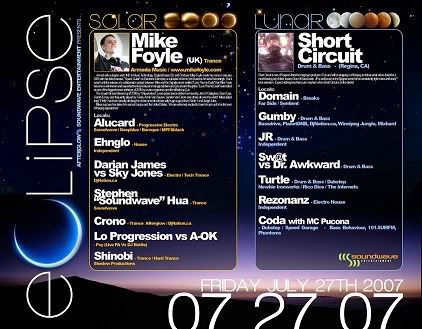 states of:

ecstatic
Friday July 27th 2007
Afterglow & Soundwave Entertainment invite you to witness the celestial event of the summer...
E C L I P S E
Featuring
Mike Foyle (UK)
Armed with a degree and HND in Music Technology, England based DJ & Producer Mike Foyle made his name in January 2005 with his debut release "Space Guitar" on Electronic Elements, a sub-label of Armin Van Buurens Armada Recordings. But it wasn't until the release of a collaboration project between Mike and the Signalrunners entitled "Love Theme Dusk" that Mike Foyle became a well-known and respected trance producer amongst clubbers and DJ's around the globe. "Love Theme Dusk" was hailed as one of the biggest trance anthems of 2005 by music magazines and the worlds top DJ's.
The smash hit was followed up in 2006 by "Shipwrecked", a solo piano-trance anthem remixed by John O'Callaghan, Sean Tyas, Gareth Emery and frequently played by Tiesto, Armin Van Buuren, Sander Van Doorn and others all over the world! Mikes latest track "Firefly" has been steadily climbing the charts since its release with huge support from Radio 1 and Judge Jules.
Mikes success has taken him across Europe and the United States. We are extremely excited to have him join us for his first ever Winnipeg appearance!
Short Circuit (Regina, CA)
Short Circuit is one of Regina's finest homegrown Producer / DJ's and will be stopping in Winnipeg to deliver what will no doubt be a mind-blowing set of dark, insane Drum & Bass beats. JP is well known in the Regina scene for his consistently tight mixes and crazy track selection. Expect nothing less than pure mayhem when Short Circuit is on the decks!
Locals:
Ehnglo - House
Domain - Breaks
Stephen "Soundwave" Hua - Trance
Gumby - Drum & Bass
Lo Progression Vs A-Ok - Psy (Live PA Vs DJ Battle)
JR - Drum & Bass
Crono - Trance
Sw@t
Vs. Dr. Awkward - Drum & Bass
Shinobi - Trance / Hard Trance
Rezonanz - Electro House
Darian James Vs Sky Jones - Electro / Tech Trance
Turtle - Drum & Bass
Alucard - Progressive Electro
Venue: 272 Sherbrook Blvd (Both upper & lower floors)
Tickets are available at the door only
$15 before Midnight
$20 After
Age: 16+ Event ID MANDATORY
Security: Professional, Friendly Security on staff all night. Every patron will be subject to search. "In & Out" privileges will be allowed if possible, but not promised. No outside food or drink permitted.
***No Drugs, Thugs or Alcohol***
Concessions: Water, Redbull & Glowgear will be available.
states of:

excited
Afterglow & Soundwave Entertainment present...
E C L I P S E
Featuring
Mike Foyle (UK)
Trance
Short Circuit (Regina, CA)
Drum & Bass
Join us as well as over a dozen Winnipeg locals as we explore the light and dark sides of music...
Full info, lineup and flyers to be released soon!!!
states of:

excited
Tickets available at ANY ticketmaster location starting on May14th 11am.
http://www.ticketmaster.ca/h/tcentres/mb.html
First 100 only $20! (infected mushroom was $40?, we bring you Hallucinogen for $20!)
Set times:
10-11 AlphaGroove
11-12 GlenBain
12-1:30~ HALLUCINOGEN
and if there's time, Winnipeg's own Lo Progression will be finishing off the night.
o2 crew will be playing some more chilled/minimal/funky house on the patio (weather permitting)
Check out this clip of his set from the fall:
http://video.google.ca/videoplay?docid=8656837174320267707
Flyers will be out and about this weekend. I'll have tons at Empire, Sin & Tonic, T5 and Temple of Sound
Let the madness begin!
www.djnation.ca
under:
DJ Sets / Events / Emerald City
The first 1/2 of it is pretty good (I'm quite proud of how it turned out), though the 2nd 1/2 have a couple rocky mixes, nothing to bad though. I'm pretty happy with how everything turned out as a whole.
If anyone is interested you can download this set from
states of:

chipper